Google-CIA-NSA Connections
Google Teams Up with CIA to Fund "Recorded Future" Startup Monitoring Websites, Blogs & Twitter Accounts

32 page report, enlightening, revealing, and a must read.
About:
Consumer Watchdog's latest complaints about the relationship of Google and the Obama administration are outlined in a 32-page report.

The paper questions a decision by NASA allowing Google executives to use its Moffett Federal Airfield near Google headquarters. Although H211, a company controlled by Google top executives, pays NASA rent, they enjoy access to the airfield that other companies or groups don't have, Simpson said.

The paper also questions Google contracts with the U.S. Department of Defense and other agencies, suggesting that, in some cases, Google contracts were fast-tracked. The paper also questions Google's relationship with the U.S. National Security Agency and calls for the company to be more open about what consumer information it shares with the spy agency.

When asked if other companies, including broadband providers, should disclose what customer information they share with the NSA, Simpson said they should, too.

"I understand the NSA is a super-secret spook organization," he said. "But given Google's very special situation where it possesses so much personal data about people, I think that there ought to be a little more openness about what precisely goes on between the two."
Read the 32 page PDF in full here
Google asks NSA to help "secure" their network
by Kim Zetter
February 4, 2010
from Wired Website
Google is teaming up with the National Security Agency (NSA) to investigate the recent hack attack against its network in a bid to prevent another assault, according to The Washington Post.
The internet search giant is working on an agreement with the controversial agency to determine the attacker's methods and what Google can do to shore up its network.
Sources assured the Post that the deal does not mean the NSA will have access to users' searches or e-mail communications and accounts. Nor will Google share proprietary data with the agency.
But the move is raising concerns among privacy and civil rights advocates.
The Electronic Privacy Information Center filed a Freedom of Information Act request on Thursday, shortly after the agreement was made public, seeking more information about the arrangement.
Executive Director Marc Rotenberg believes the agreement covers much more than the Google hack and that the search giant and intelligence agency were in talks prior to Google discovering that it had been hacked.
"What they've told you is that this is about an investigation of a hack involving China," he told Threat Level in a phone interview. "I think and have good reason to believe that there's a lot more going on."
Google declined to comment.
"At the time [of the hack announcement], we said we are working with the relevant US authorities, but we don't have any comment beyond that," wrote spokesman Jay Nancarrow in an e-mail.
The FOIA request also seeks NSA communications with Google regarding Google's failure to encrypt Gmail and cloud computing services. Rotenberg says EPIC wants to know what role the NSA has played in shaping privacy and security standards for Google's services.
EPIC also filed a lawsuit against the NSA and the National Security Council, seeking a key document governing the government's broader national cybersecurity policy, which has been shrouded in secrecy.
"We can't afford to have secret cybersecurity policy that impacts the privacy rights of millions of internet users," he said.
Google announced earlier this month that it had been the target of a "highly sophisticated" and coordinated hack attack, since dubbed Operation Aurora, against its network and other companies in the defense, technology and finance industries.
Google said the hackers had stolen intellectual property – presumed to be its source code – and sought access to the Gmail accounts of human rights activists. The attack originated from China, the company said.
Computer security firm iDefense has said that 34 companies were targeted by the attackers, who were primarily after source code.
A recent report has provided details into the nature of the persistent espionage attack that mirrored attacks on thousands of companies over the last few years, which have largely gone unpublicized.
The agreement between Google and the NSA, still being finalized, would allow Google to share critical information with the NSA about the attacks and its network – such as the malicious code that was used and its network configurations – without violating Google's policies or laws that protect the privacy of users' communications, the sources say.
The NSA's general counsel began drafting the cooperative research and development agreement the day that Google announced it had been hacked, according to The Wall Street Journal.
The agreement was finalized within 24 hours, but the information sharing at that time was limited, and only allowed the NSA to examine some of the data related to the hack. Most of the data that was shared concerned the nature of the data that was stolen, the paper said. Both the FBI and NSA worked directly with Google on the investigation.
The agreement between Google and the NSA would reportedly be the first time Google entered into such a formal information-sharing relationship – apart from its general cooperation with subpoenas and national security letters.
Matthew Aid, NSA historian and author of The Secret Sentry, said the move troubled him.
"I'm a little uncomfortable with Google cooperating this closely with the nation's largest intelligence agency, even if it's strictly for defensive purposes," he told the Post.
The NSA has been embroiled since 2005 in allegations that the agency violated federal laws in conducting illegal surveillance of Americans' phone and internet communications.
Giving the agency authority over coordination of the government's cybersecurity plan – which would include working with telecoms and other critical companies in the private sector – could put the agency in the position of surreptitiously monitoring communications.
Last year Director of National Intelligence Admiral Dennis Blair raised a ruckus when he told the House intelligence committee that the NSA, rather than the Department of Homeland Security which currently oversees cybersecurity for the government, should be in charge of securing cyberspace for government and critical infrastructures.
"The National Security Agency has the greatest repository of cybertalent," Blair said. "[T]here are some wizards out there at Fort Meade who can do stuff."
NSA Director Lt. Gen. Keith Alexander later balked at claims that his agency wanted to control the government's cybersecurity plan and said it wanted to partner with DHS and others in securing networks.
Speaking at the RSA Security Conference in San Francisco, he told the audience of security professionals that the NSA,
"does not want to run cybersecurity for the United States government."
This week Blair, commenting on the Google hack, said cyberspace could not be secured without a,
"collaborative effort that incorporates both the U.S. private sector and our international partners."
"As part of its information-assurance mission," NSA spokeswoman Judi Emmel told the Post, "NSA works with a broad range of commercial partners and research associates to ensure the availability of secure tailored solutions for Department of Defense and national security systems customers."
Google and Facebook: Alliances with intelligence to make privacy obsolete
Google is selling storage and data searching equipment to U.S. Intelligence agencies
by Eric Mayes
March 31, 2008
from RawStory Website
recovered through WayBackMachine
Google is selling storage and data searching equipment to U.S. Intelligence agencies giving them the power to create internal searches of government data.
The CIA, FBI and National Security Agency have all reportedly banded together to create an internal government intranet – sharing data on a system called Intellipedia.
"Each analyst, for lack of a better term, has a shoe box with their knowledge," Sean Dennehy, chief of Intellipedia development for the CIA, told the San Francisco Chronicle Sunday.

"They maintained it in a shared drive or a Word document, but we're encouraging them to move those platforms so that everyone can benefit."
There are three levels of information available to users:
top secret

secret

sensitive but unclassified
According to numbers provided by the CIA, 37,000 accounts have been established providing access to 200,000 pages of information. Google supplies the software, hardware and tech support.
The software and browsing giant is also licensing its mapping data to government agencies.
"We are a very small group, and even a lot of people in the federal government don't know that we exist," said Mike Bradshaw, who leads Google's federal government sales team and its 18 employees, yesterday to the Chronicle.
Federal agencies are not the only government groups lining up for the Google's know how.
The U.S. Coast Guard, The National Oceanographic and Atmospheric Administration, National Highway Safety Administration and the states of Washington and Alabama have also signed up for similar Google systems.
Google's transactions with the intelligence community have raised privacy concerns.
Questioned by CNET earlier this year, both Google and Microsoft declined to say if they have provided their users private data to federal authorities under the Foreign Intelligence Surveillance Act – President Bush's warrantless wiretapping program.
In general email and Internet data are not subject to the same privacy rules that wire, telephone and radio transmissions are.
Google told CNET:
"As our privacy policy states, we comply with law enforcement requests made with proper service. We do not discuss specific law enforcement requests and generally do not share aggregate information about them. There are also some legal restrictions on what information we can share about law enforcement requests."
Google charges the U.S. Government $25 per person for domestic surveillance
by Cade Metz
in San Francisco
18 November 2010
from TheRegister Website
Microsoft does not charge for government surveillance of its users, whereas Google charges $25 per user, according to a US Drug Enforcement Admission document turned up by security and privacy guru Christopher Soghoian.
With a Freedom of Information Act (FOIA) request, Soghoian has exposed four years of DEA spending on wiretaps and pen registers (below image).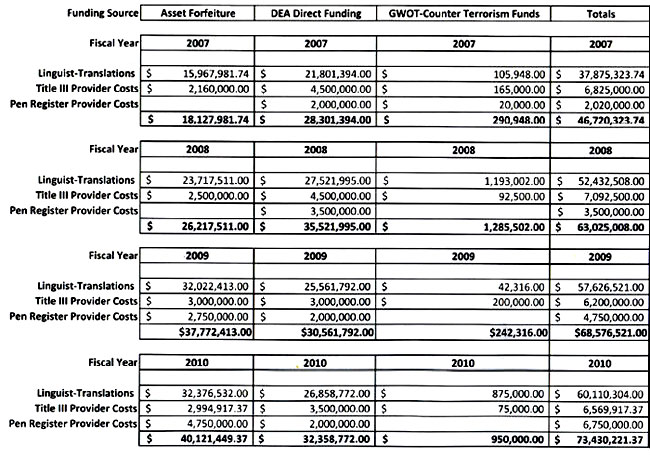 from http://files.spyingstats.com/money/dea-surveillance-pricing-2007-2010.pdf
A wiretap grabs actual telephone or Internet conversations, whereas a pen register merely grabs numbers and addresses that show who's doing the communicating.
In 2010, the document shows, the DEA paid ISPs, telcos, and other communication providers $6.7 million for pen registers and $6.5 million for wiretaps. Pen register payments more than tripled over the past three years and nearly doubled over the past two. Wiretap payments stayed roughly the same.
The documents confirm that Microsoft does not charge for surveillance.
"There are no current costs for information requested with subpoenas, search warrants, pen registers, or Title II collection [wiretaps] for Microsoft Corporation," they say.
But they show that Google charges $25 and Yahoo! $29.
As Soghoain points out, Google and Yahoo! may make more money from surveillance than they get directly from their email users. Basic Google and Yahoo! email accounts are free.
Department of Justice documents show that telcos may charge as much as $2,000 for a pen register. On the one hand, Microsoft could be commended for choosing not to make a single penny from government surveillance.
But on the other, Soghoian says, the company should at least charge that penny, as that would create a paper trail.
"You don't like companies to make money spying on their customers, they should charge something," Soghoian tells us. "You can't FOIA Microsoft's invoices, because they don't send any invoices."
Most wiretap orders in the US involve narcotics cases, so DEA spending likely accounts for a majority of wiretap spending.
Google and CIA invest in software that predicts the future
by Noah Shachtman
July 28, 2010
from Wired Website
The investment arms of the CIA and Google are both backing a company that monitors the web in real time – and says it uses that information to predict the future.
The company is called Recorded Future, and it scours tens of thousands of websites, blogs and Twitter accounts to find the relationships between people, organizations, actions and incidents – both present and still-to-come.
In a white paper, the company says its temporal analytics engine "goes beyond search" by,
"looking at the 'invisible links' between documents that talk about the same, or related, entities and events."
The idea is to figure out for each incident who was involved, where it happened and when it might go down.
Recorded Future then plots that chatter, showing online "momentum" for any given event.
"The cool thing is, you can actually predict the curve, in many cases," says company CEO Christopher Ahlberg, a former Swedish Army Ranger with a PhD in computer science.
Which naturally makes the 16-person Cambridge, Massachusetts, firm attractive to Google Ventures, the search giant's investment division, and to In-Q-Tel, which handles similar duties for the CIA and the wider intelligence community.
It's not the very first time Google has done business with America's spy agencies. Long before it reportedly enlisted the help of the National Security Agency to secure its networks, Google sold equipment to the secret signals-intelligence group.
In-Q-Tel backed the mapping firm Keyhole, which was bought by Google in 2004 – and then became the backbone for Google Earth.

This appears to be the first time, however, that the intelligence community and Google have funded the same startup, at the same time. No one is accusing Google of directly collaborating with the CIA.
But the investments are bound to be fodder for critics of Google, who already see the search giant as overly cozy with the U.S. government, and worry that the company is starting to forget its "don't be evil" mantra.
America's spy services have become increasingly interested in mining "open source intelligence" – information that's publicly available, but often hidden in the daily avalanche of TV shows, newspaper articles, blog posts, online videos and radio reports.
"Secret information isn't always the brass ring in our profession," then CIA-director General Michael Hayden told a conference in 2008.

"In fact, there's a real satisfaction in solving a problem or answering a tough question with information that someone was dumb enough to leave out in the open."
U.S. spy agencies, through In-Q-Tel, have invested in a number of firms to help them better find that information.
Visible Technologies crawls over half a million web 2.0 sites a day, scraping more than a million posts and conversations taking place on blogs, YouTube, Twitter and Amazon. Attensity applies the rules of grammar to the so-called "unstructured text" of the web to make it more easily digestible by government databases.
Keyhole (now Google Earth) is a staple of the targeting cells in military-intelligence units. Recorded Future strips from web pages the people, places and activities they mention.
The company examines when and where these events happened ("spatial and temporal analysis") and the tone of the document ("sentiment analysis"). Then it applies some artificial-intelligence algorithms to tease out connections between the players.
Recorded Future maintains an index with more than 100 million events, hosted on Amazon.com servers.
The analysis, however, is on the living web.
"We're right there as it happens," Ahlberg told Danger Room as he clicked through a demonstration. "We can assemble actual real-time dossiers on people."
Recorded Future certainly has the potential to spot events and trends early.
Take the case of Hezbollah's long-range missiles. On March 21, Israeli President Shimon Peres leveled the allegation that the terror group had Scud-like weapons. Scouring Hezbollah leader Hassan Nasrallah's past statements, Recorded Future found corroborating evidence from a month prior that appeared to back up Peres' accusations.
That's one of several hypothetical cases Recorded Future runs in its blog devoted to intelligence analysis.
But it's safe to assume that the company already has at least one spy agency's attention. In-Q-Tel doesn't make investments in firms without an "end customer" ready to test out that company's products.
Both Google Ventures and In-Q-Tel made their investments in 2009, shortly after the company was founded. The exact amounts weren't disclosed, but were under $10 million each. Google's investment came to light earlier this year online. In-Q-Tel, which often announces its new holdings in press releases, quietly uploaded a brief mention of its investment a few weeks ago.
Both In-Q-Tel and Google Ventures have seats on Recorded Future's board.
Ahlberg says those board members have been "very helpful," providing business and technology advice, as well as introducing him to potential customers.
Both organizations, it's safe to say, will profit handsomely if Recorded Future is ever sold or taken public. Ahlberg's last company, the corporate intelligence firm Spotfire, was acquired in 2007 for $195 million in cash.
Google Ventures did not return requests to comment for this article.
In-Q-Tel Chief of Staff Lisbeth Poulos e-mailed a one-line statement:
"We are pleased that Recorded Future is now part of IQT's portfolio of innovative startup companies who support the mission of the U.S. Intelligence Community."
Just because Google and In-Q-Tel have both invested in Recorded Future doesn't mean Google is suddenly in bed with the government.
Of course, to Google's critics – including conservative legal groups, and Republican congressmen – the Obama administration and the Mountain View, California, company slipped between the sheets a long time ago.
Google CEO Eric Schmidt hosted a town hall at company headquarters in the early days of Obama's presidential campaign.
Senior White House officials like economic chief Larry Summers give speeches at the New America Foundation, the left-of-center think tank chaired by Schmidt. Former Google public policy chief Andrew McLaughlin is now theWhite House's deputy CTO, and was publicly (if mildly) reprimanded by the administration for continuing to hash out issues with his former colleagues.
In some corners, the scrutiny of the company's political ties have dovetailed with concerns about how Google collects and uses its enormous storehouse of search data, e-mail, maps and online documents.
Google, as we all know, keeps a titanic amount of information about every aspect of our online lives.
Customers largely have trusted the company so far, because of the quality of their products, and because of Google's pledges not to misuse the information still ring true to many.
But unease has been growing.
Thirty seven state Attorneys General are demanding answers from the company after Google hoovered up 600 gigabytes of data from open Wi-Fi networks as it snapped pictures for its Street View project. (The company swears the incident was an accident.)
"Assurances from the likes of Google that the company can be trusted to respect consumers' privacy because its corporate motto is 'don't be evil' have been shown by recent events such as the 'Wi-Spy' debacle to be unwarranted," long-time corporate gadfly John M. Simpson told a Congressional hearing in a prepared statement.
Any business dealings with the CIA's investment arm are unlikely to make critics like him more comfortable.
But Steven Aftergood, a critical observer of the intelligence community from his perch at the Federation of American Scientists, isn't worried about the Recorded Future deal.
Yet.
"To me, whether this is troublesome or not depends on the degree of transparency involved. If everything is aboveboard – from contracts to deliverables – I don't see a problem with it," he told Danger Room by e-mail.


"But if there are blank spots in the record, then they will be filled with public skepticism or worse, both here and abroad, and not without reason."
Google develops automated eavesdropping software
by Faultline
September 3, 2006
Originally printed in TheRegister
The first thing that came out of our mouths when we heard that Google is working on a system that listens to what's on your TV playing in the background, and then serves you relevant adverts, was "that's cool, but dangerous".
The idea appeared in Technology Review citing Peter Norvig, director of research at Google, who says these ideas will show up eventually in real Google products – sooner rather than later.
The idea is to use the existing PC microphone to listen to whatever is heard in the background, be it music, your phone going off or the TV turned down. The PC then identifies it, using fingerprinting, and then shows you relevant content, whether that's adverts or search results, or a chat room on the subject.
And, of course, we wouldn't put it past Google to store that information away, along with the search terms it keeps that you've used, and the web pages you have visited, to help it create a personalized profile that feeds you just the right kind of adverts/content. And given that it is trying to develop alternative approaches to TV advertising, it could go the extra step and help send "content relevant" advertising to your TV as well.
We suspect that such a world would be rather eerie, with a constant feeling of déjà vu every time anyone watched TV.
Technology Review said Google talked about this software in Europe last June, and that it breaks sound into a five-second snippets to pick out audio from a TV, reducing the snippet to a digital "fingerprint", which it matches on an internet server.
Given the furore caused when AOL released searches on the internet, there might be more than a few civil liberties activists less than happy for Google to put this idea into practice. Also, given that Google provides the software link between its search software and the microphone, it's a small step to making the same link to any webcams attached to the PC.
Pretty soon the security industry is going to find a way to hijack the Google feed and use it for full on espionage.
Google says that its fingerprinting technology makes it impossible for the company (or anyone else) to eavesdrop on other sounds in the room, such as personal conversations, because the conversion to a fingerprint is made on the PC, and a fingerprint can't be reversed, as it's only an identity.
But we should think that "spyware" might take on an extra meaning if someone less scrupulous decided on a similar piece of software.
The Google program converts sound into graphs, weeds out background noise, and reduces the graphs to key features that can then be translated into just four bytes of information, so that the fingerprints for an entire year of television programming would add up to no more than a few gigabytes, the company said.
Meanwhile, in an unconnected announcement this week, Google said it has signed a multi-year agreement with online auction giant eBay, to provide text-based advertising outside the US.
The companies also plan to launch a "click-to-call" advertising function on eBay using Skype and Google Talk.
Big brother is well connected: Google's growing domination
November 2008
Originally seen on: Google-Watch
Google is one of about four search engines that matter. There are many more than four engines, but only about four have the technology to crawl much of the web on a regular basis.
As of July 2003, Yahoo owned,
Overture
Alltheweb
AltaVista
Inktomi,
…and finally dumped Google in February 2004.
Everything needed to turn Yahoo into a major search engine was now under Yahoo's roof. It is still possible that Yahoo will shoot themselves in the foot with all of this firepower – their desire to monetize everything appears to be high on their agenda.
But so far, after only a year, Yahoo has shown that their main index search results are on a par with Google's. This is true despite the fact that Yahoo has has infiltrated some pay-per-click links into the main index. One reason for Yahoo's success is that Google's main index, though free from paid results, has declined considerably since early 2003.
Amazingly, there is on average only a 20 percent overlap between Yahoo's first 100 results and Google's first 100 results for the same search – and still, Yahoo is just as good as Google. These days there is so little room at the top of the search results heap, that any combination of algorithms will produce acceptable results.
The main difference now is in the depth of the crawl.
Microsoft recently developed their own engine because they found themselves squeezed between the advertising engine of Overture and the search engine Inktomi – both of which became Yahoo property. In 2003 Microsoft began experimenting with their own crawler. Their new engine was launched in early 2005.
If Microsoft puts their greed on a back burner for a few years, by doing deep crawls and presenting a clean interface, they could do to Google what they did to Netscape. There is no "secret sauce" at Google – we now believe it was all hype from the very beginning. (To the extent that there ever was a secret sauce, the recipe is now known by countless ecommerce spammers, which makes it a liability rather than an asset.)
Thousands of engineers in hundreds of companies know how to design search engines. The only real questions are whether you can commit the resources for a deep, consistent crawl of the web, and how aggressively you want to use your search engine to make money.
That gives us Google, Yahoo, and Microsoft. The last one worth watching is Teoma/AskJeeves. Their search technology is good, and they seem serious about expanding their crawl. It remains to be seen how deeply and consistently they will be able to crawl websites with thousands of pages.
Google is easily top dog. They provide about 75 percent of the external referrals for most websites. There is no point in putting up a website apart from Google. It's do or die with Google. If we're all very lucky, one of the other three will soon offer some serious competition.
If we're not lucky, we will be uploading our websites to Google's servers by then, much like the bloggers do at blogger.com (which was bought by Google in 2003). It would mean the end of the web as we know it.
It is worthwhile to understand the pressures that the average, independent webmaster is under. And given that Google is so dominant, it's important to understand the pressures that are being brought to bear on Google, Inc. It does not take too much imagination to recognize that there's a struggle going on for the soul of the web, and the focal point of this struggle is Google itself.
At one level, it's a struggle for advertising revenue. The pundits look at only this level, and are unanimous that the only advertising model on the web with any sort of future is one where little ads appear after being triggered by keyword searches, or by the non-ad content of a web page.
For example, a search for Google Watch may show some ads on the right side of the screen for wrist watches. While the technique doesn't work for this example, often it serves its purpose. There is only so much pixeled real estate that the average user can be expected to survey for a given search. Today up to half of each screen is dedicated to paid ads on Google, as compared to the ad-free original Google.
Everyone wants a piece of this new wave in web advertising, and Google is making a lot of money.
Unfortunately, early evidence suggests that Yahoo is less interested in pure search algorithms, than in acquiring market share in a pay-for-placement and/or pay-for-inclusion revenue stream. The same may be true for Microsoft.
Even Google, dazzled by the sudden income from advertising, must be wondering why they go to all that trouble and expense to crawl the noncommercial sector. Those public-sector sites, such as the org, edu and gov domains, do not provide direct income, even though the web would be unattractive without them.
All the excitement over a revived online ad market, pushed by pundits hoping for another dot-com gold rush, is beginning to look like the days when AltaVista decided that portals were the Next Big Thing. That notion caused AltaVista to lose interest in improving their crawling and searching – which is how Google succeeded in the first place.
There has been almost no interest in establishing search engines that specialize in public-sector websites.
Where is the Library of Congress?
Where are the millions of dollars doled out by the Ford Foundation?
How about the United Nations?
Why can't some enlightened European entity pick up the slack?
Everyone is asleep, while the Internet is getting spammed to death.

At another level, it's a struggle over who will have the predominant influence over the massive amounts of user data that Google collects. In the past, discussions about privacy issues and the web have been about consumer protection.
That continues to be of interest, but since 9/11 there is a new threat to privacy – the federal government. Google has not shown any inclination to declare for the rights of its users across the globe, as opposed to the rights of the spies in Washington who would love to have access to Google's user data.
Much of the struggle at this new level is unarticulated. For one thing, the spies in Washington don't talk about it. Congress has given them new powers, without debating the issues. Google, Inc. itself never comments about things that matter. The struggle recognized by Google Watch has to do with the clash of real forces, but right now all we can say is that potentially this struggle could manifest itself in Google's boardroom.
The privacy struggle, which includes both the old issue of consumer protection and this new issue of government surveillance, means that the question of how Google treats the data it collects from users becomes critical.
Given that Google is so central to the web, whatever attitude it takes toward privacy has massive implications for the rest of the web in general, and for other search engines in particular.
Call it class warfare, if you like. Because that brings up the other major gripe that Google Watch has with Google.
That's the PageRank problem – the fact that Google's primary ranking algorithm has less to do with the quality of web pages, than it has to do with the "power popularity" of web pages. Their approach to ranking is anti-democratic, in that already-powerful pages are mathematically granted extra power to anoint other pages as powerful.
It's not that we believe Google is evil. What we believe is that Google, Inc. is at a fork in the road, and they have some big decisions to make. This Google Watch site is trying to articulate and publicize the situation at Google, and encourage more scrutiny of their operations.
By doing this, we hope to play a small part in maintaining the web as an information tool that is more useful for the masses, than it is for the elites. That's why we and over 500 others nominated Google for a Big Brother award in 2003.
The nine points we raised in connection with this nomination necessarily focused on privacy issues:
1. Google's immortal cookie:
Google was the first search engine to use a cookie that expires in 2038. This was at a time when federal websites were prohibited from using persistent cookies altogether.
Now it's years later, and immortal cookies are commonplace among search engines; Google set the standard because no one bothered to challenge them. This cookie places a unique ID number on your hard disk. Anytime you land on a Google page, you get a Google cookie if you don't already have one.
If you have one, they read and record your unique ID number.
2. Google records everything they can:
For all searches they record the cookie ID, your Internet IP address, the time and date, your search terms, and your browser configuration. Increasingly, Google is customizing results based on your IP number.
This is referred to in the industry as "IP delivery based on geolocation."
3. Google retains all data indefinitely:
Google has no data retention policies. There is evidence that they are able to easily access all the user information they collect and save.
4. Google won't say why they need this data:
Inquiries to Google about their privacy policies are ignored. When the New York Times (2002-11-28) asked Sergey Brin about whether Google ever gets subpoenaed for this information, he had no comment.
5. Google hires spooks:
Keyhole, Inc. was supported with funds from the CIA. They developed a database of spy-in-the-sky images from all over the world. Google acquired Keyhole in 2004, and would like to hire more people with security clearances, so that they can peddle their corporate assets to the spooks in Washington.
6. Google's toolbar is spyware:
With the advanced features enabled, Google's free toolbar for Explorer phones home with every page you surf, and yes, it reads your cookie too.
Their privacy policy confesses this, but that's only because Alexa lost a class-action lawsuit when their toolbar did the same thing, and their privacy policy failed to explain this. Worse yet, Google's toolbar updates to new versions quietly, and without asking. This means that if you have the toolbar installed, Google essentially has complete access to your hard disk every time you connect to Google (which is many times a day).
Most software vendors, and even Microsoft, ask if you'd like an updated version. But not Google. Any software that updates automatically presents a massive security risk.
7. Google's cache copy is illegal:
Judging from Ninth Circuit precedent on the application of U.S. copyright laws to the Internet, Google's cache copy appears to be illegal. The only way a webmaster can avoid having his site cached on Google is to put a "noarchive" meta in the header of every page on his site. Surfers like the cache, but webmasters don't.
Many webmasters have deleted questionable material from their sites, only to discover later that the problem pages live merrily on in Google's cache. The cache copy should be "opt-in" for webmasters, not "opt-out."
8. Google is not your friend:
By now Google enjoys a 75 percent monopoly for all external referrals to most websites.
Webmasters cannot avoid seeking Google's approval these days, assuming they want to increase traffic to their site. If they try to take advantage of some of the known weaknesses in Google's semi-secret algorithms, they may find themselves penalized by Google, and their traffic disappears.
There are no detailed, published standards issued by Google, and there is no appeal process for penalized sites. Google is completely unaccountable. Most of the time Google doesn't even answer email from webmasters.
9. Google is a privacy time bomb:
With 200 million searches per day, most from outside the U.S., Google amounts to a privacy disaster waiting to happen.
Those newly-commissioned data-mining bureaucrats in Washington can only dream about the sort of slick efficiency that Google has already achieved.